Embark Dog DNA Test Review: An In-Depth Look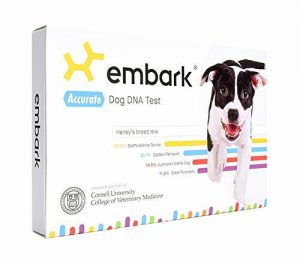 DNA testing is a great way to find out more about your dog's genetic background and its overall health. Thanks to advancements in technology, conducting a DNA test has become quite simple. With the right DNA test kit on hand, all you need to do is collect your pooch's saliva. Their saliva is then bottled up and sent to DNA testing companies. There are a lot of companies out there that offer these services. Today, in our review we are going to be focusing on Embark Dog DNA test.
Embark Dog DNA test is perhaps one of the most impressive canine genetic testing companies in existence. They have a sprawling breed database and the ability to identify over 160 kinds of diseases. Embark Dog DNA test also offers a great combination of services that make buying their DNA test kit worthwhile. Let's begin taking a look at the Embark Dog DNA Test Kit and see what it has to offer.
Notable Features:
First of all, Embark's DNA sample collection is really simple. They provide you with a cotton swab that you use to sponge a bit of saliva from your dog's mouth. This swab then gets placed in a provided container and is sent to Embark.
Thanks to the company's expansive database, they can run over 160 different kinds of tests. Meaning that their test results can identify even the most obscure diseases and genetic problems.
Accuracy is one of Embark's biggest strengths. The company has an advanced lab operated by some of the best canine DNA scientists out there. Every sample that goes through this lab is put through a variety of tests and validation checks. Their lab is capable of using over 200,000 genetic markers. This allows Embark to analyze a dog's breed ancestry with astonishing precision.
Their test results can help you determine your dog's genetic age as well. Genetic age refers to a dog's physical health status in terms of their lifespan. It won't be able to give you a calendar age for your dog. However, you can figure out how old your dog is. It's a great feature for people who have adopted dogs.
For younger dogs, Embark's test manages to provide an accurate prediction of their weight. You can figure out how big your dog will get. This information can be used to keep a check on your dog's physical condition.
Embark's test report is unique. The company provides you with an interactive guide that lets you understand what all the data means. This ensures that dog owners can read test results on their own. It also ensures that Embark does not have to dumb down its test results. Their test results provide in-depth information that makes it a great source of reference for vets. Their reports can help vets understand your dog's health condition and provide better treatment.
Unlike other DNA kit companies, Embark's DNA test reports are dynamic. The company promises to provide you with updates for life. As their technological capabilities increase and they begin conducting more tests, Embark will update your report automatically. As long as the test kit that you used was compatible with a certain test, Embark will add its findings to your test reports.
The data that Embark Dog DNA test produces through every test is used to improve genetic science. This allows the company to improve its capabilities continually. It also gives you a chance to contribute to genetic science. Every Embark Dog DNA test kit that gets used adds up to a greater cause.
Embark makes sure to verify every test result. This makes sure that the company offers accurate and precise results for everyone.
Pros:
Compared to its competitors, Embark can produce far more results than any of them. It can test for 160 different health conditions. Its breed database has data on 250 different kinds of dog breeds.
At the moment, Embark can provide 100x more genetic information than anyone else.
The number of genetic markers that the company can evaluate is also unmatched. Meaning that their tests leave no genetic stone left unturned.
Their test kit comes with an extra swab as well.
Embark is involved in charitable work. Doing business with them means that you help out animal groups.
Embark's interactive and dynamic test reports make understanding complex information simple. Their report guide and the option to integrate with a smartphone app makes their report stand out.
The company also offers live chat and email support for data interpretation. You can go through your report with an expert and understand its contents even better.
Their customer support is exemplary. The company actively reaches out to customers to improve their experience.
Cons:
Embark offers a lot, but at a very steep price. It is the most expensive DNA test kit out there. It should be noted that you get what you pay for.
Embark's test result delivery time is quite long. Since the company conducts loads of tests, you will have to wait for 3 to 7 weeks. The average time for test result delivery is around 2 to 3 weeks.
How Does The Embark Kit Work?
From the moment you get the dog DNA test kit, you can tell that this one is different from the rest. The kit's packaging provides very clear and precise instructions. It lets you figure out exactly what to do and even provides links for websites that you need to visit.
The first that you need to do is activate the testing kit. This is done by visiting the provided website or downloading Embarks app. You sign up there and then create a profile for the dog that you are about to test. For every profile, you get to register one kit. Registering a dog DNA test kit is simple; find the registration number that comes with every kit and enter it. At this point, you can either allow Embark to use your dog's data for scientific purposes or not.
Make sure that you don't damage or throw away the kit's packaging. You will need it to send the collected sample back to Embark.
The tools that Embark provides you for collecting DNA samples are noteworthy. Unlike most companies that simply have you seal cotton swabs in an envelope, Embark's tools are much more sophisticated. Their cotton swab container resembles the kind that is used for collecting human saliva. It has a cotton swab and a small tube filled with stabilizing fluid. Once the cotton swab has been used, it gets placed into the container and shaken around in the stabilizing fluid for around 10 seconds. It's safe to say that Embark's specimen collection isn't different just for the sake of it. This is the only test that requires a single sample to be collected, and it manages to produce so much data from it.
After you have collected your sample, you pack it up in the provided packaging and send it back. From here, the waiting period begins. You sit around and wait to receive news. Embark won't leave you hanging during its longer than usual waiting time.
The Testing Period
Embark is all about keeping its clients updated. The company regularly communicates with you through email. As soon as the kit is dispatched, you are presented with a tracking number. This lets you check where your package is and when it will reach Embark. Once Embark has received your sample, the company will alert you when they start the genotyping. This is when their experts begin testing your sample.
By keeping you updated, Embark makes the waiting period comfortable for you. The company sends in the final results to you via email. Usually, their breed identification results come in first, and health results get sent a while later.
Embark's Test Results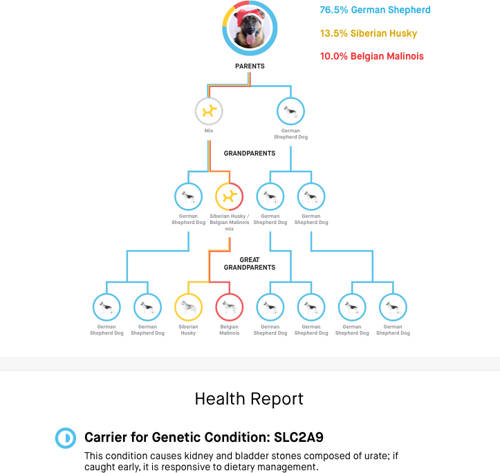 The way Embark presents data in its report is unique and engaging. Their breed identification results include a pie chart that gives you a visual representation of what breeds run through your dog. They even tell you what percentage of your dog's heritage is made of Wolf DNA.
The report that you get on email is brief compared to what you can view on their website. You can log on to their website and then go through everything else. There are even PDF versions of the report that you can print out.
Here's a list of everything that Embark's test report can tell you about your dog.
You get to identify more than 160 disorders and health conditions in your dog. Embark states that their results should never be used for medical diagnoses. They are only meant to alert you to any problem that your dog might have. Their medical results also provide you with a genetic health lifespan of your dog. Their genetic lifespan indicates how long it will take their health to deteriorate and in what way. This information can be particularly useful as it allows you to take preventive measures and increase your dog's lifespan.
Along with in-depth information on your dog's medical well-being, you also get information about their nature. This information lets you figure out your dog's temperament and their energy level. You can also learn about their behavioral tendencies and personality traits. Information like this can be used to train your dog better and also take better care of their mental well-being. You can even get an insight into minute things such as how to groom your dog. Embark can tell you whether they'll shed a lot or not. Embark can help you understand your pet. A better understanding will help you train them better, take care of them better, and keep them happy.
Embark's breed database has enough information to cover over 98% of dog breeds in the US. Their ability to analyze more than 200,000 genetic markers allows Embark to provide incredibly detailed information about your dog's heritage. They can even identify wolf DNA and village dog DNA, something that most of their competition cannot do.
What Do The Customers Have to Say?
If you scroll through reviews left behind by customers, you will quickly notice a pattern. Almost every dog owner who has used Embark is familiar with how DNA tests work. They have tried more affordable brands first and then turned to Embark.
According to most users, the kind of accuracy and amount of data that Embark provided was unmatched. Other test kits would either get the breed identification results wrong, or their data would be too brief. Test kits have a particularly hard time identifying mixed breed dogs. Most of them get the ancestry wrong because their breed database isn't big enough. One user stated that Embark was the only DNA test that was able to identify Labrador genes in their mixed breed successfully. The rest only stated that their dog was a mix of Pitbull and bulldog genes.
Over 90% of Embark's customers are more than happy with their services. The 10% that wasn't satisfied was mostly annoyed with the long waiting period. Also, a few dissatisfied customers seemed to have a dog with very obscure ancestry. This led to Embark being unable to identify their ancestry accurately.
Conclusion
Embark's DNA test isn't a gimmick in a box. And it certainly isn't a half-baked solution meant for entertainment purposes. This is perhaps the most real canine DNA test that you can find in the market. Embark takes its genotyping very seriously; this ensures that their results are precise and reliable. Their kit is exceptionally expensive, but you can tell that you get exactly what you pay for. From the kit's packaging to the after sales services that you get, Embark doesn't cut any corners.
Overall, Embark gives you a comprehensive solution. It will tell you everything that you need to know about your dog, and then tell you even more. Its vast database allows the test to identify the heritage of mixed breeds with superb accuracy. As for fitness results, you can expect Embark's kit to pinpoint every aspect of your dog's health.
Embark's price tag will make it hard to approach for many people. However, for those who are willing to spend a hefty amount of money, Embark is your best option.